At Lenard Tool and Machine, Inc., we provide precision molds created with superior engineering and manufacturing services. Below are a few examples of the innovative solutions and quality products and services we deliver to our clients nationwide.
Product and Tooling Development for a Silicone Airway Assembly
For the Medical Industry
A physician and molder approached us to develop the reusable silicone airway assembly highlighted in this section. We derived the airway assembly design through reverse engineering, which allowed the piece to be reduced to five simple modeled parts. Once product development was completed, we began the creation of the molds, which included modeling, selecting the fabrication processes, and the production of prototypes for product qualification.

We created the resulting liquid injection book molds utilizing CNC milling and turning, surface grinding, and bead blasting on pre-hardened 420 stainless steel. Its featured cuff wall thickness was 0.030″, and we kept tolerances at ±0.0010″. The final produced design was validated for proper operation and geometry.

Results

With a speedy turnaround of only four months, we delivered a cost-effective solution for this mass-produced molded product, creating an opportunity for future design modeling and mold production projects. Lenard Tool and Machine, Inc. demonstrated an unsurpassed ability to serve the customer's unique needs and keep them integrated into every step.

Efficiency, innovative design, high performance, and a customer-centric culture are the key advantages we deliver every day.
Tooling Development for a Cold Drop Injection Molding of an AEM Intake Elbow
For the Automotive Industry
A customer approached us from the U.S.-based auto industry to produce a mold for the Ethylene Acrylate (AEM) Intake Elbow highlighted here. Our mold design development would have to accurately reproduce the nuanced geometry of the elbow while still providing a high-performance and cost-effective solution.

The design of the mold began on the CAD/CAM software, integrating the customer's requirements and the elbow's complex geometry. We specified a mold layout incorporating cooled runners, drops, and heated cavity plates and cores. This setup allowed for an efficient balance between cost and injection cycle time.

Our design also incorporated its press-mounted rail system for core bar installation, doubling production rates by employing paired sets of cores. Pre-hardened 420 stainless steel was selected as the material for the cavity plates, and 1144 steel for the cores.

Fabrication utilized CNC milling and turning as the primary manufacturing processes, along with electron discharge machining (EDM), surface grinding, bead blasting, and gun drilling. Wall thickness was set at 0.200″, and tolerances were kept at ±0.0010″. We completely validated mold geometry and functionality to guarantee performance in the completed mold.

Results

Our expertise in mold design and manufacturing provides a critical advantage in injection molded production. With an impressive turnaround time of only 12 weeks, a comprehensive, high-performance solution was delivered to the customer featured in this section.

Although only one example, Lenard Tool and Machine, Inc. has rendered many similar experiences to its customers, combining efficient, experienced-driven design with their needs to create high-performance, cost-effective molding solutions.
Product and Tooling Development of Silicone Wedges
For the Dental Industry
Lenard Tool and Machine, Inc. was approached by a dentistry customer to develop a molding solution for the assorted silicone dental wedges highlighted here. The mold design was derived through reverse engineering of the customer-supplied wedges. We worked closely with the customer and the molder to ensure that the intricate geometries were fully integrated into the design.

A CAD prototype of a four-cavity family mold was created and submitted to the molder for input and approval. The mold was then fabricated and submitted to the customer for additional review. Further revisions added cavity inserts that widened the varying wedge models this molding solution would produce.

Fabrication utilized a series of processes to create the mold. CNC milling was the primary construction method, along with surface grinding and bead blasting. Four hundred twenty pre-hardened stainless steel was selected as the mold material, offering high hardness and excellent wearability. The synergy of these factors resulted in a mold with precise casting abilities and dimensional tolerances of only ±0.0010″. Fabrication concluded with a comprehensive validation of proper operation and dimensional accuracy.

Results

A well-engineered design, coupled with quality tooling and a quick delivery time of only three months, gave the customer a convenient, long-lasting, and cost-efficient injection molding solution. We displayed a stellar capability in answering a customer's needs starting from the conception to the delivery of this project.

The strongly defined characteristics highlighted here show that we have class-leading skills in formulating comprehensive answers to the production questions our diverse customers bring.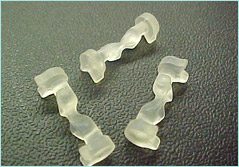 Development of a Mold Tooling for a Silicone EEBD Mouthpiece
For the Safety or Medical Industry
A medical/safety industry customer approached Lenard Tool and Machine, Inc. to create a production mold to manufacture the silicone mouthpiece highlighted here. We utilized our fully developed suite of design and fabrication talent to construct a molding solution capable of accurately casting the mouthpiece.

We worked closely with the customer while producing initial mold prototypes in a CAD/CAM environment. A horizontally oriented injection press mold was formed, featuring heated cavity plates and an ejection system capable of moving the plates and mold cores. Four hundred twenty pre-hardened stainless steel was specified for the material, giving the mold exceptional surface hardness and wearability. We implemented input and approval from the molder during the design phase.

Lenard Tool and Machine, Inc. fabricated the production mold design through material removal procedures. CNC-type milling and turning were the primary processes, followed by refinement through surface grinding and bead blasting. Our excellent mold tooling skill allowed for the casting wall thickness of 0.050″ and tight tolerances of ±0.0010″. Subsequent validation of dimensional accuracy and functionality ensured that the final product rendered high-performance operation.

Results

Completing the project in a speedy eight weeks, we resolutely satisfied the customer's need for a molding solution. The end product was cost-efficient, able to recreate the complex shape of the silicone mouthpiece with high precision. This project is one of many that exemplifies our excellent talent in the design and fabrication field, delivering high-quality production molding solutions to all customers.
Tooling Development of a Silicone Punch and Die Unit
For the Medical Industry
A medical industry customer approached Lenard Tool and Machine, Inc. to formulate a complete production system for the silicone part highlighted here. Our task would be to develop a production methodology capable of producing the silicone product with maximum efficiency and performance.

We used CAD/CAM software and the consultancy of a molder as the foundational work of the design phase. An A2 full hard punch, mated with an A6 full hard die, was selected to cut the silicone part from a 0.030″ sheet stock material. Although a simple design, our experience and talent dictated that such a production method would be cost-efficient and allow for high yield rates.

We fabricated the silicone part punch and die unit utilizing CNC milling, center-less grinding, and surface grinding to provide excellent dimensional precision. A comprehensive evaluation of the geometry and operation of the unit helped guarantee an extended and long-lasting production system.

Results

In only eight weeks from conception to completion, we facilitated the needs of this customer with a well-engineered solution. The punch and die unit provided an efficient and cost-effective production system that would remain useful for years.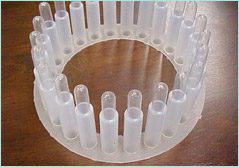 Mold Tooling Development for a Silicone Cap
For the Medical Industry
A manufacturer of medical devices selected us to create a high-performance mold to produce the silicone cap highlighted here. Initial product development revealed that the mold design would have to address the unique challenges posed by the geometry of the cervical cap.

Mold design took place on CAD/CAM software and integrated all complex customer specifications. The mold design we produced coped with these constraints by utilizing exploding cavity inserts and a flip-out core bar with cores attached, all constructed out of sufficiently hard 420 stainless steel featuring an RC of 50. Input and approval from the molder concluded the design phase.

CNC milling, turning, surface grinding, and bead blasting were utilized to produce the mold. We held the tightest tolerances at ±0.0005″, with a cuff wall thickness of 0.010″. Dimensional inspection and functionality validation ensured proper operation and geometry in the produced design.

Results

We constructed a cost-effective and precise solution for this ostensibly simple but difficult-to-mold silicon part. Our experience-driven design and innovation in addressing a critical roadblock provided this customer with a quintessential experience where their needs were considered at every step.

This experience revealed our unparalleled ability to satisfy the customer's needs with efficiency, experienced engineering, and high performance.
Molding Tooling Development of an EPDM Diaphragm
For an Automotive Application
A U.S. automotive firm contracted Lenard Tool and Machine, Inc. to create an injection mold for the EPDM diaphragm featured in this section. Initial assessments revealed that we would have to design a high-quality, cost-effective mold solution capable of casting the intricate layout of the diaphragm.

The design of the mold was performed on CAD/CAM software, considering the customer's specific requirements and the complex geometry of the diaphragm. We created a design that incorporated its own T-slot core bar shuttling technology in the form of cavity bars that slide out with the core bars. A de-molding fixture was custom designed to allow for easy de-molding from these specialized cores. Input from the molder was included throughout the design phase.

The fabrication process was specified to contain CNC-based turning and milling for the primary material removal, along with bead blasting and surface grinding procedures. This allowed for excellent dimensional precision in the 0.032"-part thickness, with tolerances of ±0.0010″. Four hundred twenty pre-hardened stainless steel was employed for the cavity plates and bars and the core bars. A full evaluation of geometrical accuracy and mold operation was carried out after fabrication.

Results

Delivered in only six weeks, we brought to the customer a well-engineered, high-performance product designed with their needs in mind. An industry-leading ability to provide a comprehensive and cost-efficient molding solution on time was strongly demonstrated in this project.

Every day, we demonstrate the ability to satisfy customer after customer with efficiency, innovation, and comprehensive solutions to the roadblocks that molding production can pose.
Product and Tooling Development of Silicone Decorative Light Pop-Ons
For the Home Decor Industry
When approached by a home decor industry customer to develop the silicone light bulb decorations shown here, Lenard Tool and Machine, Inc. delivered a comprehensive production solution. We called upon our design and fabrication talents to promptly address the customer's needs.

The design of a solution was oriented towards creating a durable, reliable molding system for silicone decorations. Customer-supplied design sketches were used as a foundation for CAD/CAM modeling of the decorations themselves, followed by the creation of molds to produce each unique decoration. Continuous communication was maintained with the customer to ensure adherence to the design intent.

CNC milling and turning, along with secondary surface grinding and bead blasting, were utilized on 420 stainless steel to create production molds. Our unparalleled tooling capabilities allowed the manufacture of a precise, high-performance mold with strict tolerances of only ±0.0050″. Dimensional and operational checks concluded the fabrication phase, ensuring a dependable mold system was delivered.

Results

We managed an excellent turnaround time of only eight months for the project, proving that our synergy of design and fabrication presented the customer with a tremendous advantage when seeking a complete production solution.

Diligent engineering practice, clever creativity, and timely scheduling are the time-tested characteristics we offer to our customers.